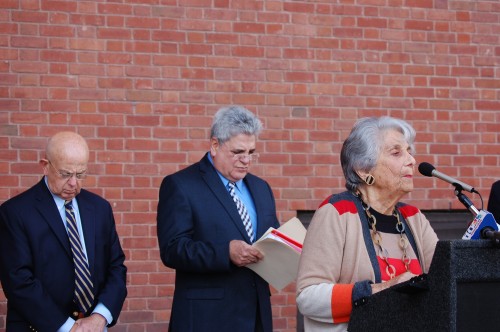 Rhode Islanders who served as delegates to Rhode Island's 1986 Constitutional Convention spoke outside the Garrahy Judicial Complex to speak about their personal experiences as delegates to a Constitutional Convention. The former delegates urged Rhode Islanders to reject Question 3 on this November's ballot. The press conference was held at the Garrahy Complex because that is where the 1986 Constitutional Convention convened many of its meetings. The six former delegates who publicly announced their opposition to a Constitutional Convention are Tony DeSisto, Roberto Gonzalez, Tom Izzo, Kathleen Managhan, Rene Menard, and Lila Sapinsley.
Lila Sapinsley, former delegate to the 1986 Constitutional Convention and former Senate Republican Minority Leader, stated, "In 1986 when a Constitutional Convention was approved I eagerly ran for delegate. I naively thought that if delegates ran without party labels the convention would be free of politics. However, my hopes were dashed when I saw that since candidates ran from House districts, the convention was a mirror image of the House of Representatives. Delegates, if not directly connected to party leaders, were family or friends. The Speaker of the House controlled the convention. If delegates to the 2015 convention are elected by existing electoral districts we will again have a duplicate of the legislature. Let's concentrate on electing better representatives and forget about an expensive duplicate of the General Assembly."
East Providence resident Roberto Gonzalez, also a former delegate, stated, "The 1986 convention was hijacked from the citizens of Rhode Island. While some delegates deliberated in good faith, the outcome of the convention had been predetermined by the then-powerful House Speaker, who was in turn controlled by the same special interests that have controlled House leaders in recent history. Many, if not most of the delegates, were family or friends of those in power. It was never a convention of the people to improve government, but rather a convention of special interests. I am sure that if the good citizens of this state choose to have another convention, the exact thing will happen. Instead of debating good government amendments, the convention will become bogged down with a plethora of polarizing social issues such as gun control, abortion, voter ID, and immigration. There is nothing to stop the delegates from putting measures on the ballot that will reverse or dilute the civil rights gains that have been so difficult to obtain."
Tom Izzo, another former delegate, said, "The process of electing delegates alone impacts the potential for a 'purer, freer and more open deliberation' – a process where, while non-partisan, does not allow for a real vetting of the candidates' qualifications. In most instances–though not running–sitting representatives hold inordinate sway, and special interests can leverage their greatest influence. These special elections, as in most primaries, have a very low voter turnout, and candidates must depend on these special interests to get elected. While there were a few positive outcomes from the last convention, I do not believe the time, the financial cost, the potential negative impact on civil rights, and most importantly the virtually unlimited impact of special interests, especially in light of recent rulings regarding campaign spending, warrants or justifies the calling of another convention."
Former delegate Tony DeSisto also talked about his experience in 1986 on the ACLU's cable show. You can watch a clip of that discussion here.