In case you didn't notice, election season is in full swing. Since the ACLU of RI is strictly non-partisan, we're somewhat above all the shouting, promises, and finger-pointing that accompany electoral politics. But that doesn't mean we don't care about the electoral process itself.  Quite the opposite, in fact.
VOTING
We want to make sure that everybody exercises their fundamental right to vote. To that end, here are two resources (in Spanish and English) that we've updated for 2018:
• Know Your Rights: A Guide for Rhode Island Voters in 2018 (pdf)
• Conozca Sus Derechos: VOTAR en Rhode Island (pdf)
• Know Your Rights: Voter ID and the 2018 Election (pdf)
• Conozca Sus Derechos: IDENTIFICACIÓN de Votante (pdf)
Print them out, pass them out (as permitted by law), bring them to the polls. In short, USE THEM.
POLL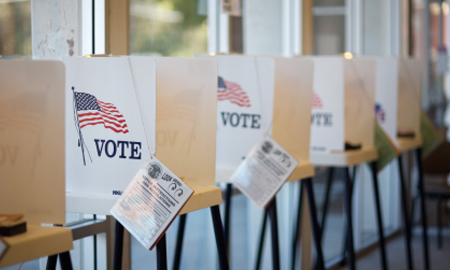 MONITORING
On election day, we'll have people monitoring the polls across the state, and our phone lines - (401) 831-7171 - will be open to ensure that no eligible voter is denied their right to vote.  If you do encounter problems voting, here's our 2018 Voting Rights Complaint form.
CANDIDATE SURVEY
While we don't endorse or oppose political candidates, we're always interested in learning a candidate's views on civil liberties issues.  That's why we sent a survey to each candidate for four State offices (Governor, Lieutenant Governor, Secretary of State, and RI Attorney General - 20 people total). Unfortunately, the response rate was quite disappointing. But answers from those who did respond can be found here.
LEGISLATIVE SCORECARD
We also put together a legislative scorecard which looks at key civil liberties votes by our state legislators during the 2017-2018 General Assembly session.  (NOTE: The National ACLU has a scorecard for our Congressional delegation.) Of note among our state legislators is how predictable their votes were – particularly on the House side.   Of 64 Democratic Representatives, about two-thirds NEVER voted against the Speaker of the House's position on the 18 votes that we scored. (On the Senate side, about half deviated from the Senate President's votes.) As the scorecard notes, however, it does not cover every bill with civil liberties implications, and a legislator's leadership can't be captured in scorecards like these, so if you're concerned about your legislator's vote on a particular issue, get in touch with them!  To that end, here's a link to our Advocacy Toolkit in preparation for making your voice heard next year.
Finally, there's no early voting in RI, so we can't say vote early and often, but please VOTE.